How much does it cost to remodel a kitchen?" is a common concern among folks hoping to increase home value and comfort. Getting to know the average kitchen remodel cost helps you plan your next home improvement project.
Putting together a kitchen remodel budget is one of the first steps you need to take to realize your dream kitchen. Whether you want a minor remodel or a major kitchen remodels, knowing the project cost is a great starting point.
To help you with your kitchen remodel, our remodeling contractors have put together this guide to a kitchen remodel costs. Reading this will teach you everything about the overall cost of kitchen remodeling projects.
The Cost of Remodel A Kitchen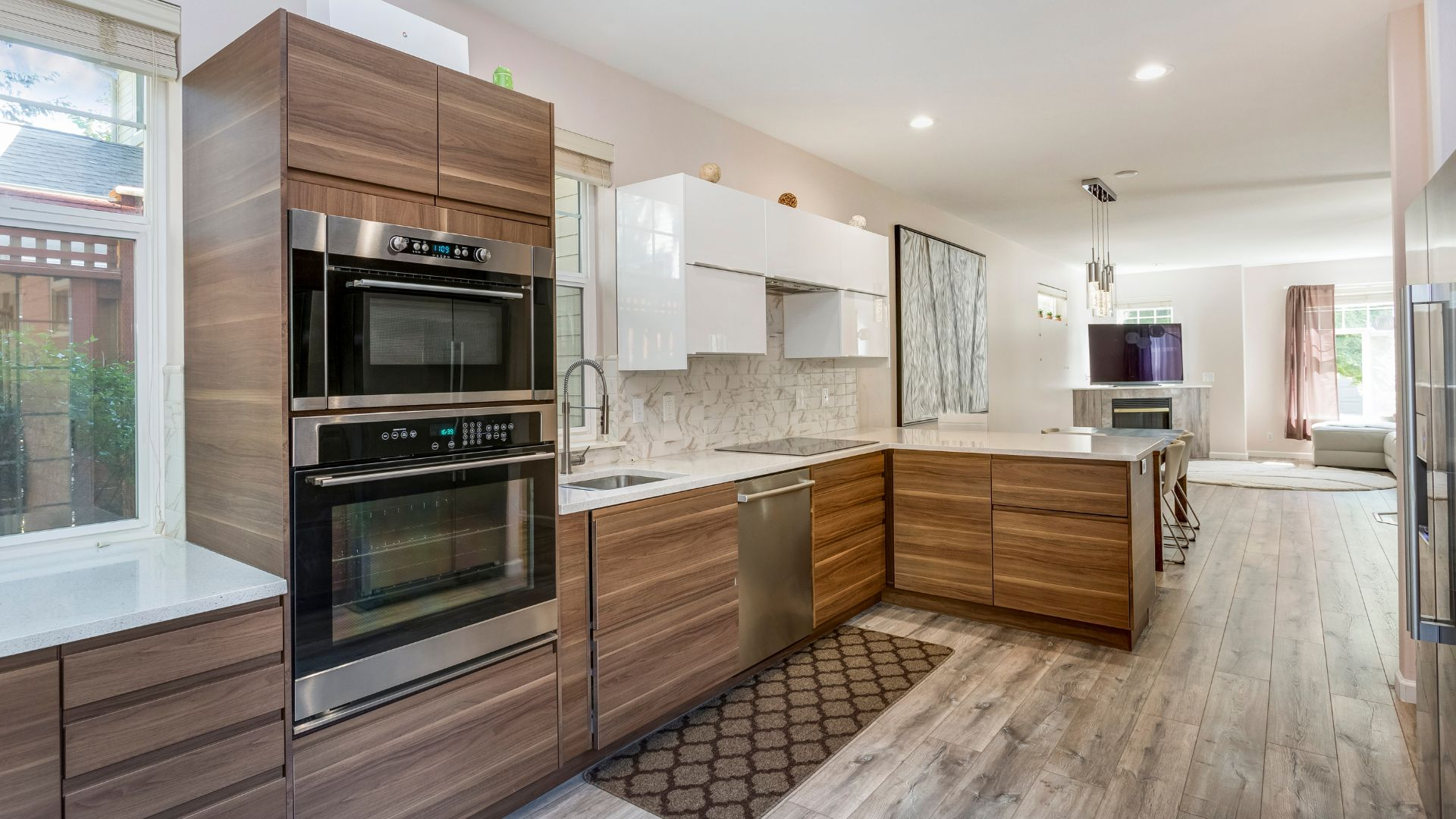 The average kitchen remodels costs from $9,000 to $37,000+. Ultimately, it will also depend on the square footage, general contractor, labor costs, countertop materials, kitchen cabinet materials, and other factors specific to your kitchen remodel.
If we translate that to the kitchen remodel costs per square foot, then it will be $75 to $250. Meanwhile, below you will find other estimates for your kitchen renovation costs.
Minor Remodel – $9,000 to $12,000
Small Kitchen Remodel Cost – $13,500
Mid-Scale Remodel – $16,500
Upper Mid-Range – $21,000
Major Remodel – $26,000 to $50,000+
Your total kitchen remodeling costs will depend on many personal factors. Keep in mind that every project is unique and has a kitchen remodel cost all its own.
What Do I Get For Different Remodel Prices?
At most, if you spend more on your remodeling project, you'll surely get more from it. Although, keep in mind that this is not always the case. You could spend less, and get more. If you'll only have a minor kitchen remodel, or a mid-scale kitchen remodel only, you might have to spend less. But, if you want a complete kitchen remodel project, then the cost would be different. On the other hand, to give you a better idea of what you can expect from a certain kitchen renovation budget, we have broken down what each price would be able to cater to you:
Minor remodel: $10,000 – $15,000
For a minor kitchen makeover, some items, like your current cabinets will remain, while the other things in your kitchen get upgraded. A fresh coat of paint is part of this budget, but probably not new and high-end appliances.
If you choose a minor kitchen to remodel, your space will still look fresh and clean. For this kitchen remodel cost you gain a lot of improvement, but it will never do you as much.
Mid-level remodel: $15,000 – $29,000
This type of kitchen renovation might open a door for some layout changes and even new fixtures. Kitchen cabinets might be difficult to fit into this budget, but can still be possible.
As for mid-scale kitchen remodeling, you could get new countertops. However, it still depends on the cost of the countertops and how intricate they are. If you've been thinking about getting rare marble or stainless steel, this budget might not be able to do it for you. However, there are still options to choose from and they could work around your remodeling budget.
A major kitchen remodel: $29,000 – $64,000
A complete kitchen remodels can be accomplished for this total project cost. Nothing from the old kitchen will stay unless you want it to. So, your cost to remodel would be higher.
You might even have room in this budget to change walls or expand your kitchen. Even custom cabinets can be purchased with this budget, but that expense will push it to the limits.
Also in this budget range, you could run new gas lines if you want to have a flame-powered stove. This project gives you more options for high-end appliances like ovens.
How do I estimate the cost of kitchen remodels?
The only way to get an accurate estimate is to have professional kitchen remodelers come to inspect your home and your plans. On your own, you are left with generalizations that can give you a good idea but could be inaccurate.
One of the first things you need to do to estimate the cost to remodel a kitchen is by measuring your kitchen. You need to know the square footage, then you can see how much kitchen remodels cost per square foot.
You also need to factor in your home's location, which has a big impact on kitchen remodeling costs. In high-cost-of-living areas, your estimate should be higher than the average cost you find in this article or elsewhere.
Cost of a Kitchen Remodel | Understanding Your Budget
There are two great methods to come up with your kitchen remodeling budget:
One: Imagine what you want, Then find the money to do it.
In this strategy, you come up with creative ways to get exactly the kitchen you want. This could mean many things from foregoing expenses to taking out loans, to depleting your savings.
Two: Figure out what you can afford, and see what you can do with that amount.
This is the safer strategy that might fit a more fiscally conservative home remodeler. To make this work, you might have to sacrifice some of your desires if they are out of your price range.
Typical Kitchen Remodel Budget
You might still wonder, "How much does it cost to do a certain kitchen remodeling project?" Understanding what percentage of the total cost goes to each element of your project can help your planning process.
The average cost of each part of a kitchen renovation is:
Installation costs – 17%
Design and modeling of kitchen layout – 4%
Kitchen island – 10%
Installing flooring – 7%
New doors and windows – 4%
Painting walls and ceiling works – 5%
Plumbing or gas lines, – 4%
Light fixtures – 5%
Replace kitchen cabinets – 29%
Energy efficient appliances and AC system – 14%
Permit costs – 1%
You can adjust your budget how you like to save a few dollars. For example, if you don't want a kitchen island, you could take that 10 percent and allocate it elsewhere, or keep the savings.
Size and Kitchen Remodeling Costs
A bigger kitchen remodel comes with higher costs overall. The cost to remodel is lower for smaller kitchens because they need fewer materials, simple as that.
The total square footage of your kitchen can help you estimate your cost to remodel. Most homeowners will pay between $100 and $250 per square foot for a kitchen remodel.
You still might not be sure about how many square feet your kitchen is. For reference, we can put kitchens sizes into general categories with costs, such as:
Small kitchen = 50 to 70 square feet, average cost $9,500 to $20,000
Medium kitchen = 70 to 120 square feet, average cost $15,000 to $40,000
Large kitchen = 120+ square feet, average cost $30,000+
Kitchen Renovation Components and the Prices
In many kitchens remodels, folks hope for custom cabinetry, new countertops, new appliances and to make their home like a remodeling magazine. Luckily, all of that is possible as long as it fits into your total budget.
The prices we display should be true over much of the country. But, there are variations in prices based on location, so you might want to check with a local supplier to get a closer estimate of costs.
To help you save money and understand your remodeling costs, we can break down everything you must buy. A great way to make your kitchen perfect and fit your budget is to spend more on the things you love and save on things your won't notice.
New Appliances
It's time to throw away your old and broken appliances. While the upfront cost might be high, new appliances are more energy efficient, translating to lower energy bills and savings in the long run.
The major kitchen appliances and their average costs are:
Refrigerator = $1,500
Induction electric stove = $2,231
Gas stove = $2,800
Dishwasher = $950
Kitchen Cabinets
The largest expense in most kitchen remodels is for new kitchen cabinets. There are three main types of kitchen cabinets with distinct price ranges. This includes:
Stock cabinets – $100-$300 per linear foot. This is the lower total cost way to go, with limited options for changes.
Semi-custom cabinets – $300-$500 per linear foot. You get more choices for cabinet hardware and colors, for a bit more of your total budget.
Custom cabinets – $500+ per linear foot. Commission a piece of fine furniture for your home, with a lot of labor costs.
Also, the type of cabinets you need depends a lot on the shape of your kitchen. An odd-shaped kitchen is more difficult to build cabinets for than a standard, square kitchen, meaning higher installation costs.
On the other hand, you might want to consider refinishing your cabinets. The labor costs for this task usually run $35 to $75 per hour, with a full cabinet refinish totaling $1,500 to $5,000.
Installing cabinets, how much does it cost?
A certain part of the cost of kitchen cabinets is their installation. On average, installing cabinets costs $80 to $190 per unit.
This might seem like a high price, but you have to consider how critical proper installation is. A falling cabinet is a serious hazard that you want to pay to avoid.
Kitchen Countertops
Getting new countertops as part of your kitchen remodel is a wise choice. These critical surfaces are where you chop veggies, knead bread, or lean when you're having a conversation.
Each countertop material has its advantages that you need to weigh for your lifestyle. The prices of each kitchen countertop material are:
Granite countertops = $40 to $60 per sq. ft.
Marble = $40 to $100 per sq. ft.
Live-edge wood = $95 to $500 per sq. ft.
Butcher block = $30 to $40 per sq. ft.
Laminate = $20 to $40 per sq. ft.
There is also a trend to choose recycled materials for countertops. One option is recycled paper, which can cost from $75 to $125 per foot installed.
Natural Stone Kitchen Countertops
You might be replacing all your kitchen countertops, hoping to add counter space, or putting a top on a kitchen island. Natural stone is one of the most expensive options but also looks incredible.
You can expect to pay from $50 per linear foot on the low end, to $400 on the high end for new stone countertops. Remember, the more intricate your counter space is, the higher the labor cost will end up being.
New Kitchen Floor
Kitchen floors don't just have to look great, they also have to stand up to lots of traffic and cooking spills. There are many material options for kitchen flooring out there, including:
Glazed ceramic tile = $2 to $4 per square foot
Hardwood = $3 to $10 per square foot
Sheet vinyl floors = $0.50 to $2.00 per square foot
Vinyl plank or tiles = $2.50 to $5.00 per square foot
Bamboo flooring = $1.50 to $9 per square foot
Sheet linoleum floors = $2.00 to $2.50 per square foot
Linoleum tiles = $3.50 to $5.00 per square foot
After the flooring materials, you must pay to have them installed. The typical cost of labor to install kitchen floors is from $4 to $19 per ft2.
Tile Floors Costs
Many people choose tiled floors for their kitchen remodels because they are strong and water-resistant. The average cost to have these floors installed including materials is between $6 and $20 per ft2.
Additionally, if you have a walk-in pantry you must decide if you want to tile it or not. This space could cost you an additional $200 to $300.
Light Fixtures
Having great lighting will make your new kitchen look much more beautiful. Every detail will show up the way you want it to.
The cost of lighting fixtures can run from $200, up to $1,200. even higher prices might be seen for artisan pieces of incredible beauty.
Costs For A New Kitchen Sink
The sink is an integral part of the kitchen remodel. It's the water source and the drain for washing up.
Finding a kitchen sink that fits your design is critical. There are many kitchen sink options with different prices to choose from, including:
Farmhouse sink = $300 to $600
Double stainless steel sink = $200 to $400
Large single-basin stainless steel sink = $250
Copper sink = $500 to $1,000
Some people might include a kitchen faucet in the cost of the kitchen sink. This can add $100 to $500 to your expenditures.
Tile Backsplash and Backsplash Installation
Including a new tile backsplash in your kitchen, remodeling gives an exciting new look to your space. Most people will end up spending from $700 to %1,000 to have a new backsplash installed.
Likewise, you might want to know the cost of the tiles for a backsplash. Some of the materials costs for a tile backsplash are:
White subway tile = $7 to $14 per ft2
Ceramic or Porcelain = $2 to $4 per ft2
Marble tile = $5 to $20 per ft2
Glass tile = $4 to $15 per ft2
On the other hand, one of the most affordable backsplash types is made from sheet laminate. This durable material costs about $5 per ft2 including the cost of installation.
Adding A Kitchen Island
If you have room in your kitchen, adding an island could be a perfect way to add storage, counter, and dining space. This fun addition costs $3,000 to $5,000.
Just imagine yourself whipping up a tasty dip and serving your friends sitting across the island. This is a feature that ups your entertaining game for sure.
Built-In Wine Fridge
Getting your own wine fridge built into your cabinetry is a great idea if you love a nice glass of red, white, or rosé. This costs $200 to $9,000 for the unit, plus $100 to $500 for installation. Cheers!
Additional costs and considerations
There are a lot of odds and ends that add to your overall cost to remodel. Things like trim pieces, drywall repairs, new blinds, and others typically end up costing from $200 up to $1,000.
Something to know is that when you hire a professional contractor, normally any cost overruns are their responsibility. That means you won't have to worry about unexpected charges for small details.
One drawback of doing your own kitchen remodel is that all of the unexpected odds and ends fall on you to pay for. For example. if you have an accident and break some materials, you could end up paying hundreds of dollars extra to replace them.
Adding Windows To Your Kitchen?
Bringing more natural light into the home is a top priority for many folks. You can expand existing windows, add new windows, or add skylights to do this with great results.
In many homes, adding more windows to a kitchen works wonders, and costs $150 to $800 per window. Having more daylight when you make your breakfast can make your whole day feel smoother and more productive.
There is also the chance to open your windows on warm days. This might help the wind cool you down, plus odors and smoke will fly outside, instead of hanging around on your kitchen cabinets and walls.
Will Skylights Work In My Kitchen?
Skylights pretty much only work if your kitchen is on the top floor with access to the roof above it. There are also structural limitations where some roofs can support a skylight, while others can't.
The average cost to add a skylight to a kitchen is $1,750. The range of prices goes from $1,000 to $2,500 per skylight.
If a skylight won't work, you could add a solar tube instead, which brings in daylight but no view to the heavens. The average cost of solar tube installation is $600 to $1,000.
How To Get The Most Out Of Your Kitchen Remodel
Amazingly, people get the most satisfaction and add the most to their home value with a minor kitchen remodel like painting walls. A remodeling magazine or general contractor might try to get you to buy the most expensive things, but that won't always bring you happiness.
Kitchen remodels that revamp the kitchen layout might seem sexy, but there could be more important tasks like adding gas lines to focus on. Staying within your kitchen remodeling budget is a great way to enjoy your process and end up satisfied.
While you might want custom cabinets, stock cabinets might fit better into your budget and appeal to potential home buyers. In the end, stock cabinets might serve you just as well as custom cabinetry, and you will get more bang for your hard-earned bucks.
Is redoing a kitchen worth it?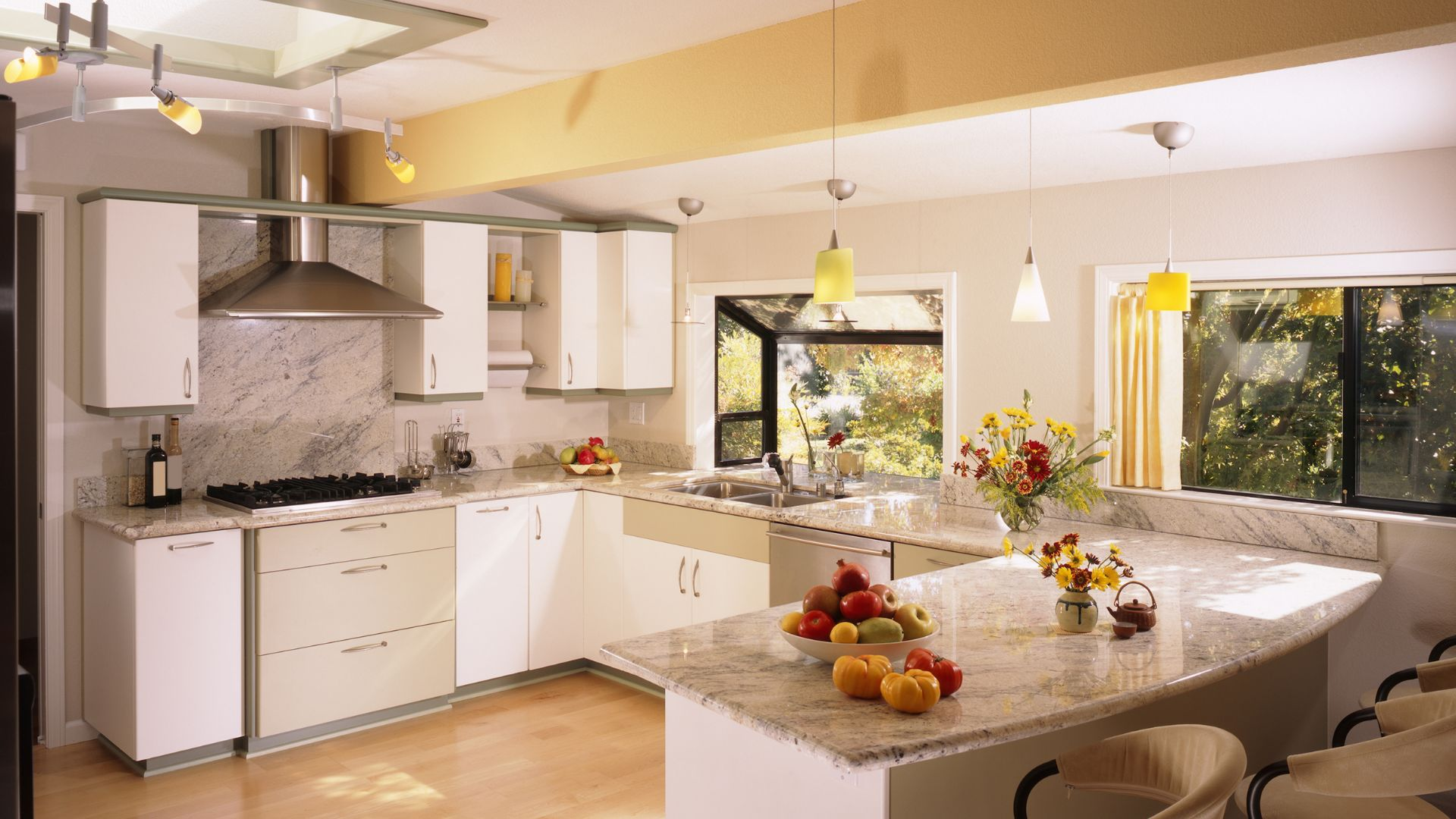 In most cases, having a new kitchen all your own is a great investment. You will have many years of enjoying your kitchen, making memories, and preparing tasty meals.
Yes, a kitchen remodel is a big investment. But, the satisfaction you find over the years almost always makes the dollar figure seem insignificant.
Overall, a kitchen remodel is a deeply personal act that you will get so much out of. You will feel better and more satisfied each time you enter your new and amazing kitchen.
Is remodeling my kitchen a good investment?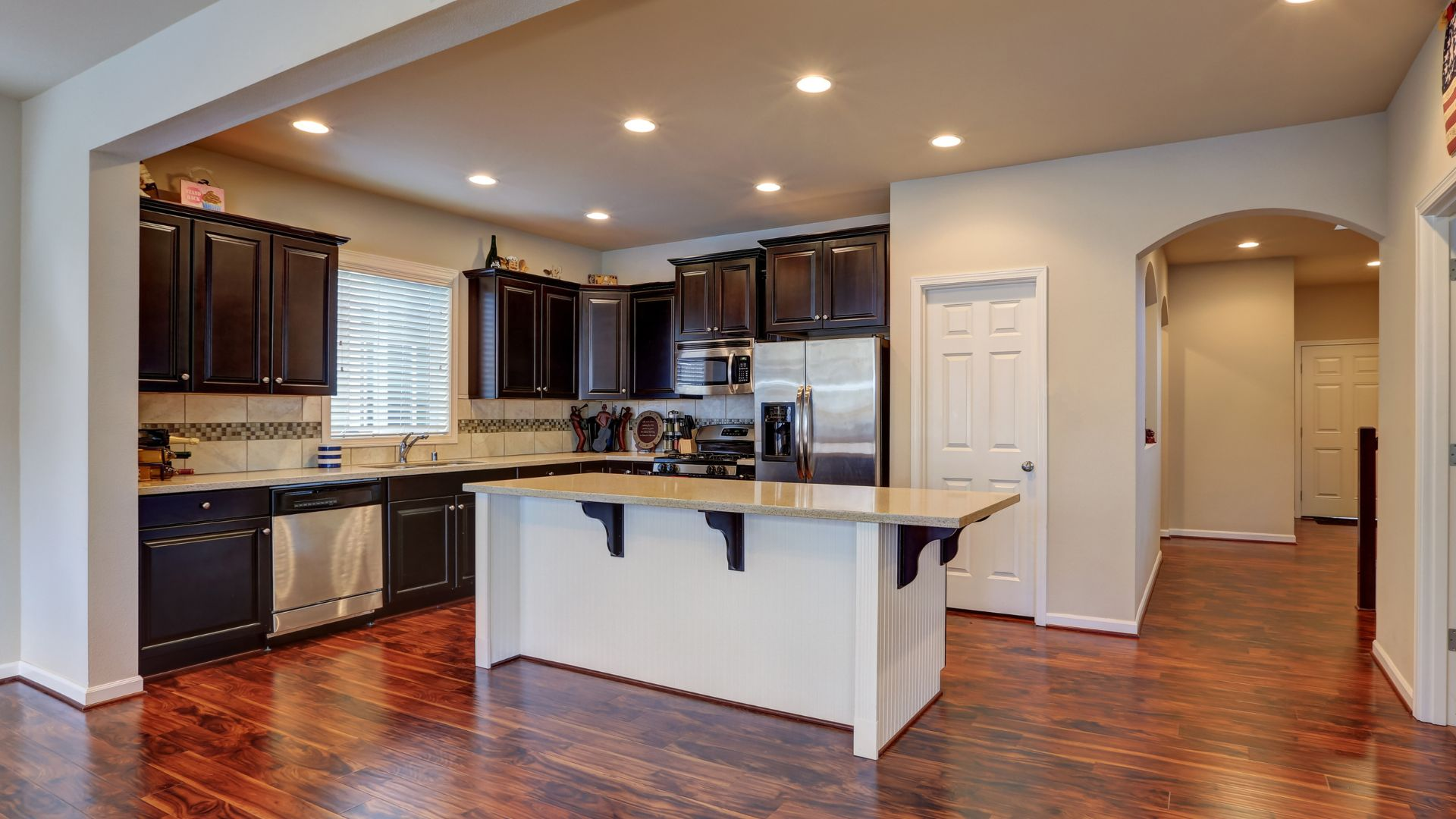 With all of the kitchen remodel costs, you might wonder if these expenditures are a good investment. If you want to enjoy your kitchen and home fully, yes kitchen remodeling is a good investment.
There are immeasurable spiritual benefits to having a new kitchen, and these outweigh any financial reasons. When it comes to selling your home, you will get a higher price for it if it has a new kitchen.
Kitchens can be the most important room for many home buyers. But, they want a kitchen they can see themselves in, not one that you designed custom for your lifestyle.
How Does A Kitchen Remodel Affect Home Value?
In today's changing real estate market, it's good to know which projects improve the value of your home the most. A well-executed kitchen remodel increases a home's value.
While a couple of years ago a home's price would go up every few months regardless of repairs, today we are moving more into a buyer's market. Having a beautifully remodeled kitchen can attract those wary home buyers and entice them to close the deal.
But, if your goal is to increase home value with your kitchen remodel, you must choose a basic design. This way, home buyers will be able to imagine their own decorations and cooking style in the space and want to buy it.
Return on investment(ROI)
You can expect anywhere from 50% to 76% for an ROI on a kitchen remodel when you sell your home. This means for each dollar you spend remodeling, you get 50 cents to 75 cents back when you find a buyer.
You get the highest ROI on simpler improvements like painting walls or replacing light fixtures. Bigger ticket items have lower ROI.
This could be because buyers want to see a space that they can make their own. If a kitchen is full of your desired high-end fixtures and finishes, they might not be appreciated.
Remodel vs Renovation vs. Expansion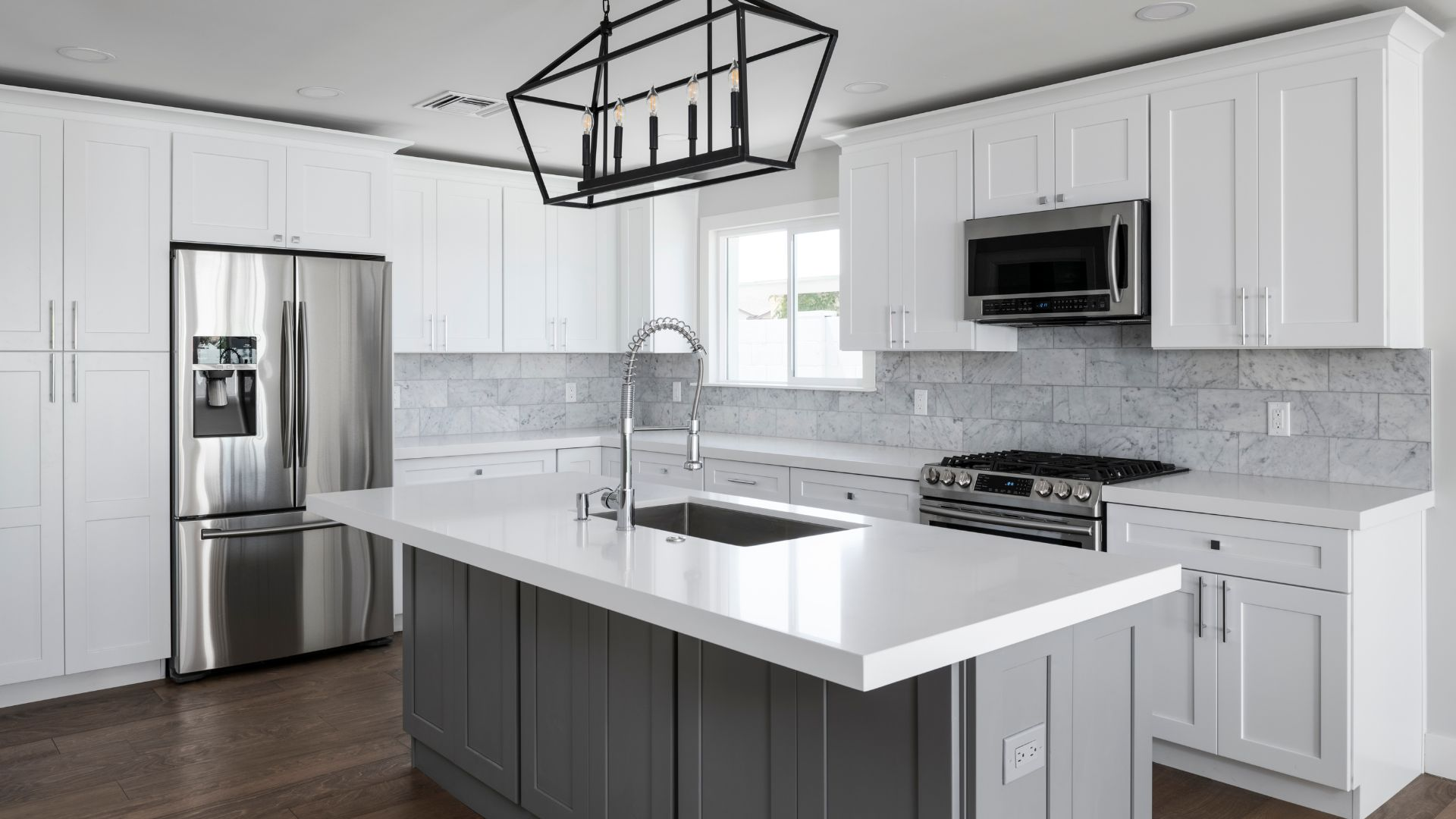 When researching home remodel prices homeowners often encounter various words whose meanings appear identical — or simply confusing. If you plan on hiring someone as a general contractor, you need clear instructions on the language used during the construction phase.
A remodel typically stripping a kitchen down to the bones and starting fresh. A renovation is normally lighter construction and repairs. An expansion means knocking down walls or building an addition to your kitchen.
Knowing the specifics of home improvement language will ensure that you get everything you want. Being able to use remodeling, renovation, and expansion correctly opens doors and makes the whole process easier.
Costs of Remodeling, Renovating, or Expanding
A renovation is the lowest-priced option at $5,000 to $12,000.

Next comes remodeling at $9,000 to $37,000.

Finally, expanding the kitchen is the costliest option at $20,000 to $60,000.
What Can You Do To Save Money?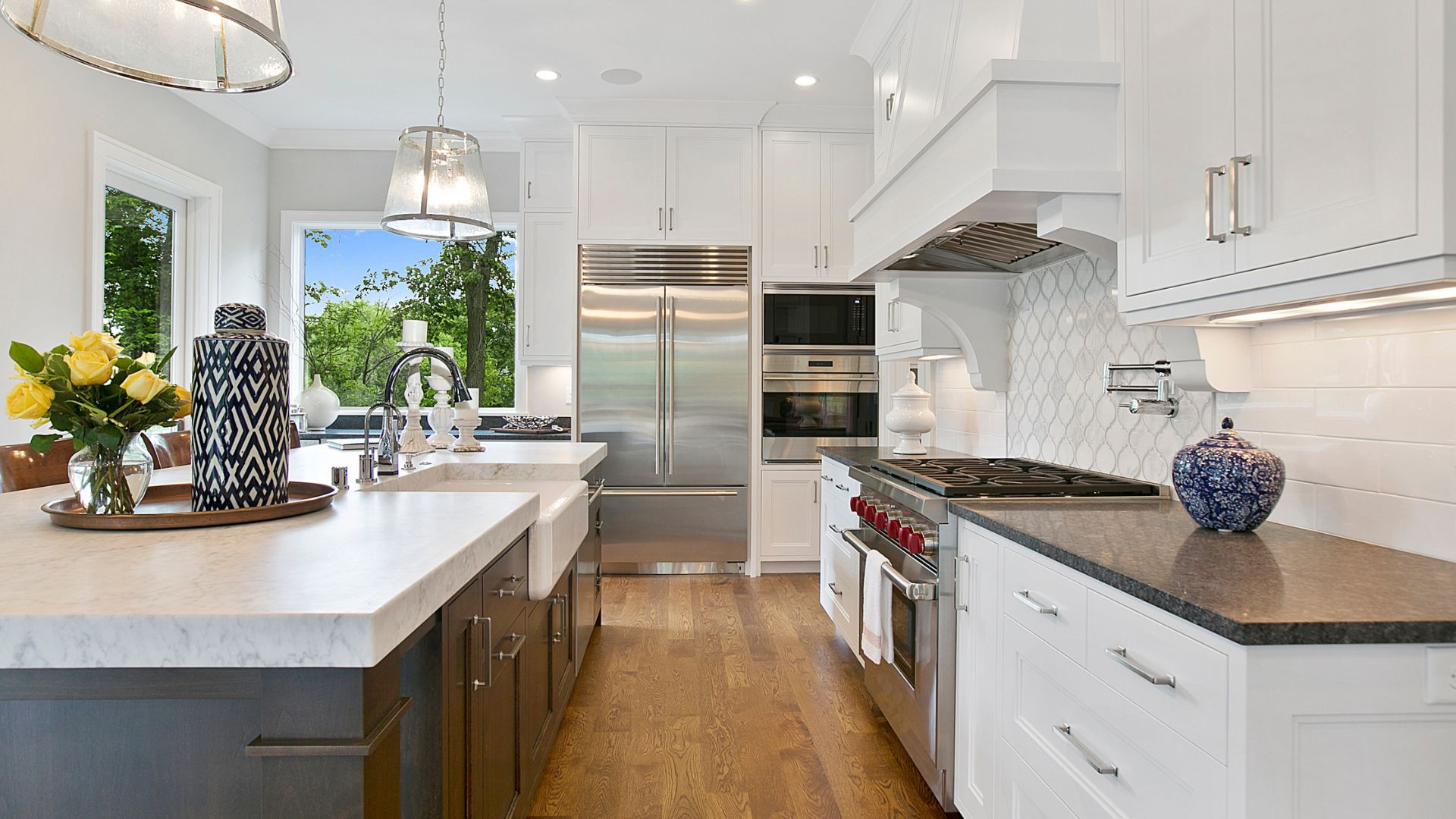 After learning the cost of remodeling your kitchen, you might hope you can find ways to make it cheaper. There are many ways to cut down on costs, including:
If your cabinets ain't broken, reuse them. Paint them, sand them, fix hinges, do whatever it takes to make this expensive item last.

Take on the task you have the skills and tools to do yourself.

Less detail equates to more savings and you can add details later on.

Recycle old materials and donate things that are still usable for a tax write-off.

Search for cheaper materials on craigslist or other sites and look out for sales at stores.
These are just suggestions on how you can save a few bucks on your kitchen remodel. At the USA Cabinet Store, we are more than willing to help you form a cost-efficient kitchen makeover to fit any budget.
Should I Get Financing For Kitchen Remodeling Costs?
Many people choose to take out financing for their kitchen upgrade. Getting to enjoy your kitchen no w is usually worth the added debt.
To answer this question fully, talk to your financial advisor. They can explain to you exactly what you can afford, and what life could be like if you take out a loan.
How to hire a professional?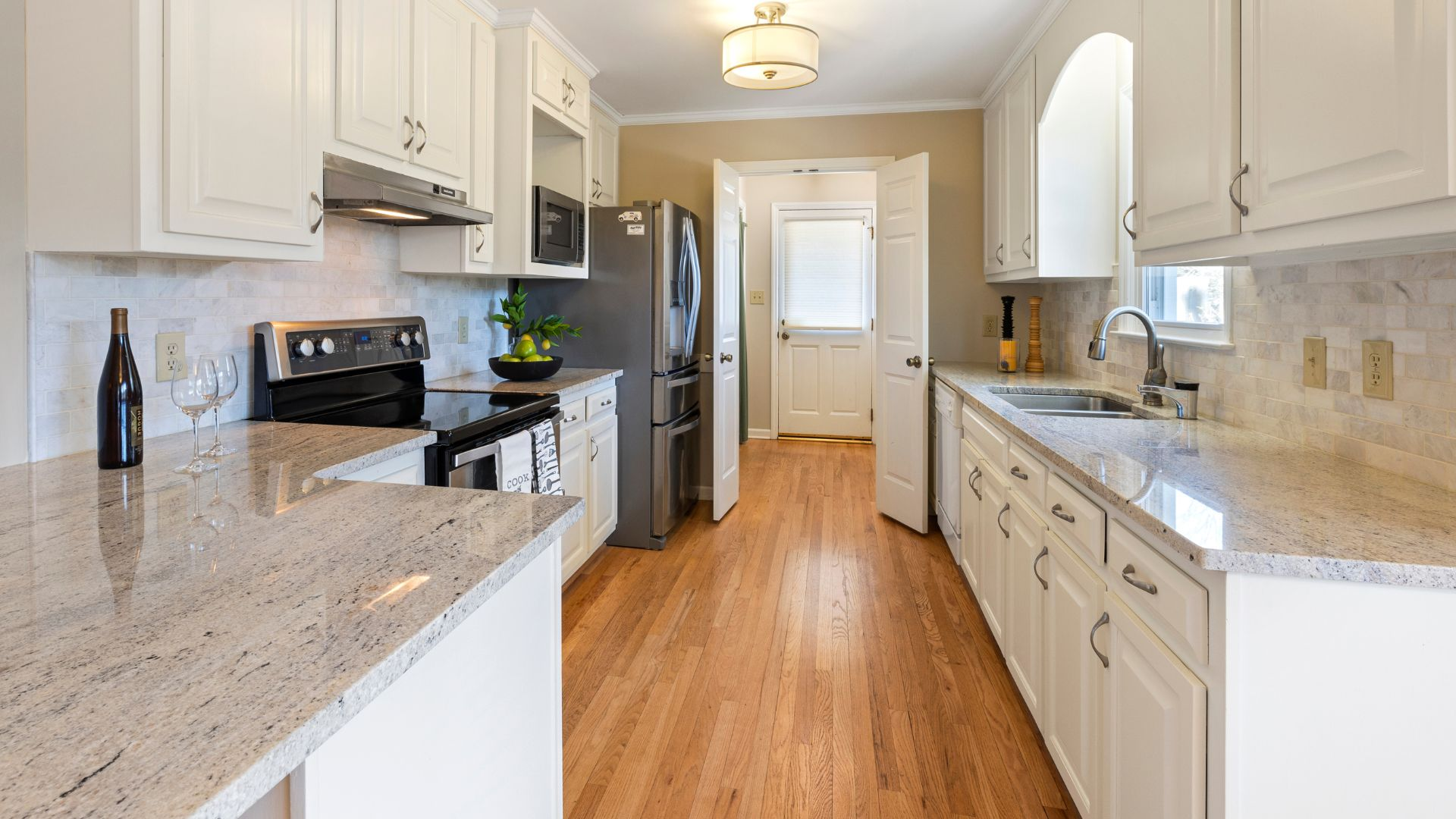 Remodeling the kitchen requires a variety of skills, which often means homeowners often hire a specialized contractor. Let's see how we compare contractor services.
Communication Is Key
The first factor is communication. You must be able to explain what you want, and the contractor must understand what you say.
You could be spending a lot of time with this contractor, and there needs to be great communication. Bad communication leads to conflicts, and there is enough stress in kitchen remodeling without that.
Have long conversations with your prospective contractor. Afterward, if you feel a good rapport, they could be a good candidate for the job.
Check References
You also need to check with some references and see what sort of work they do. Go deeper than just reading online reviews, try to call or meet someone who has worked with the contractor before.
While the vast majority of contractors are legit, it only takes one bad apple to rain on your parade. If possible, have a look at a completed remodeling project from the contractor.
There are some signs of a professional job you can look for, like:
The paint will be smooth and there won't be brush marks of different colors anywhere.

Tile work, including tile backsplash and floor, will be even, with no raised corners.

Cabinet hardware will be tight-fitting and even.

You won't notice any seams in the countertops.
Need A Local Kitchen Remodeling Design Center?
When it comes to kitchen and bathroom remodeling design, USA Cabinet Store is the leading center. They come with years and years of experience, professional and licensed contractors, so and expert designers. We can surely guarantee top-tier kitchen renovation results that will last for a lifetime, not to mention, will also add to the value of your home. If you need free design consultation, We have an array of kitchen remodeling ideas, modern and classic, and more. We are serving different areas in Virginia, Maryland, and Texas.
For you to see our stunning designs, check us out on Facebook or visit our Showroom today!