If you're looking to refresh your bathroom, we've got the perfect solution for you! This blog post is here to provide 21 inspiring ideas that will help makeover any space, be it a master bath or a small powder room. Whether you're on a budget or are willing to splurge, there's something in this list that sure pleases every taste. Let us introduce some of our favorite options so that together we can create an incredible and functional oasis out of your bathroom by 2023!
From clever technology upgrades to sleek monochromatic styles, pick one idea from our selection and start transforming your own little corner today. There's no better time than now to breathe life into what could become the highlight of wall space in your home soon enough.
Short Summary
Create a stylish, personalized bathroom with monochromatic designs, nature-inspired elements, and vintage and modern touches.

Make the most of your space with energy-efficient upgrades & smart technology plus creative lighting ideas and colorful accents.

Personalize your experience. By mixing materials or optimizing the layout for an inviting environment that meets your needs!
Elegant Monochromatic Designs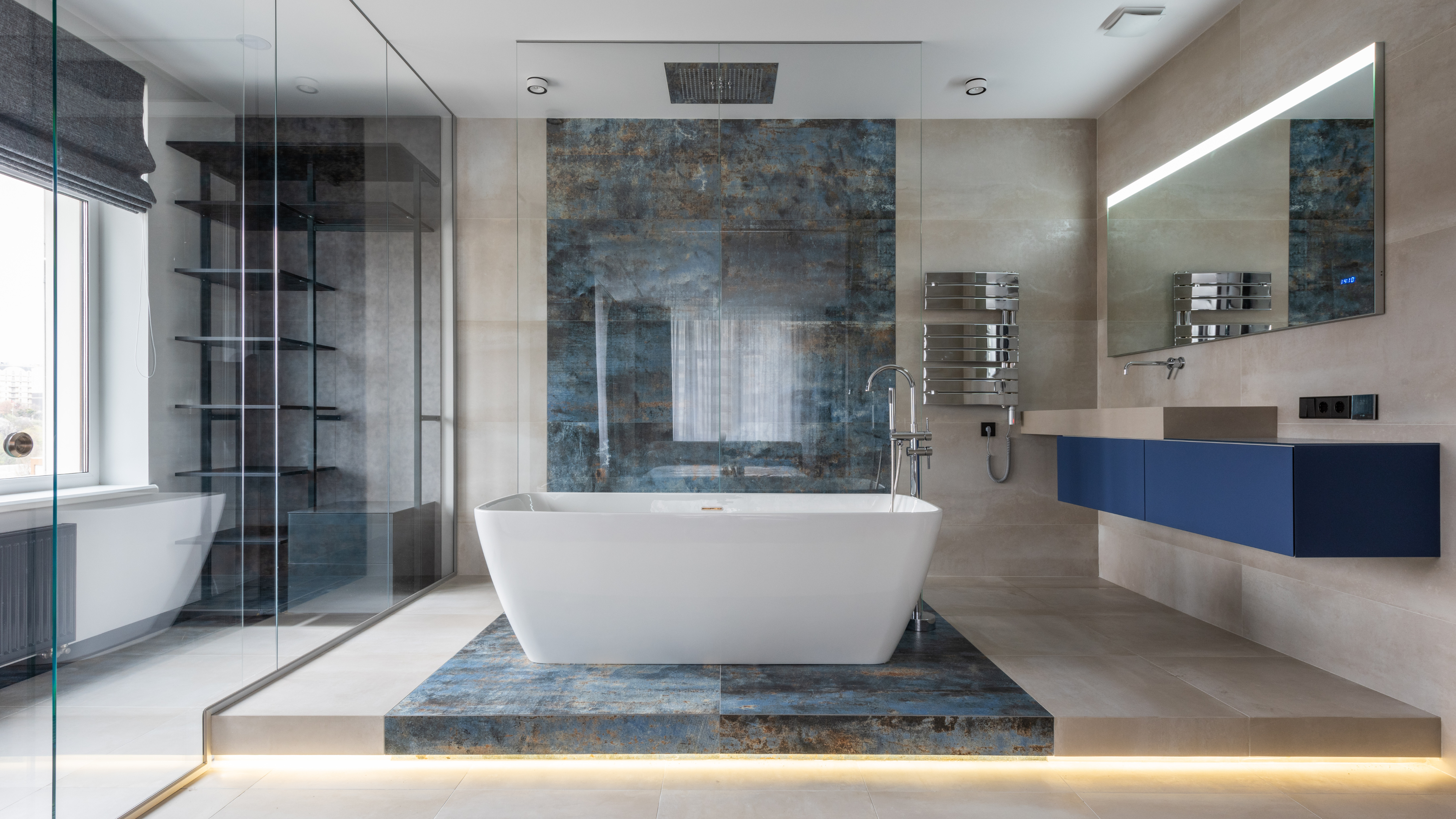 Crafting a gorgeous bathroom is simple with the right monochromatic design. Begin by selecting a color scheme that works for your personal styles, such as an emerald green, pristine white, and gold look or a Circa-1930 chandelier from Elsa Schiaparelli's Baguès collection. After you decide on colors to complement one another in harmony, work towards remodeling items like cabinets and updating them with new hardware along with installing modern sink fixtures adding shape to the ceiling area of the room resulting in a sleek yet inviting atmosphere where all aspects are connected through its single-hued appeal.
Nature-Inspired Elements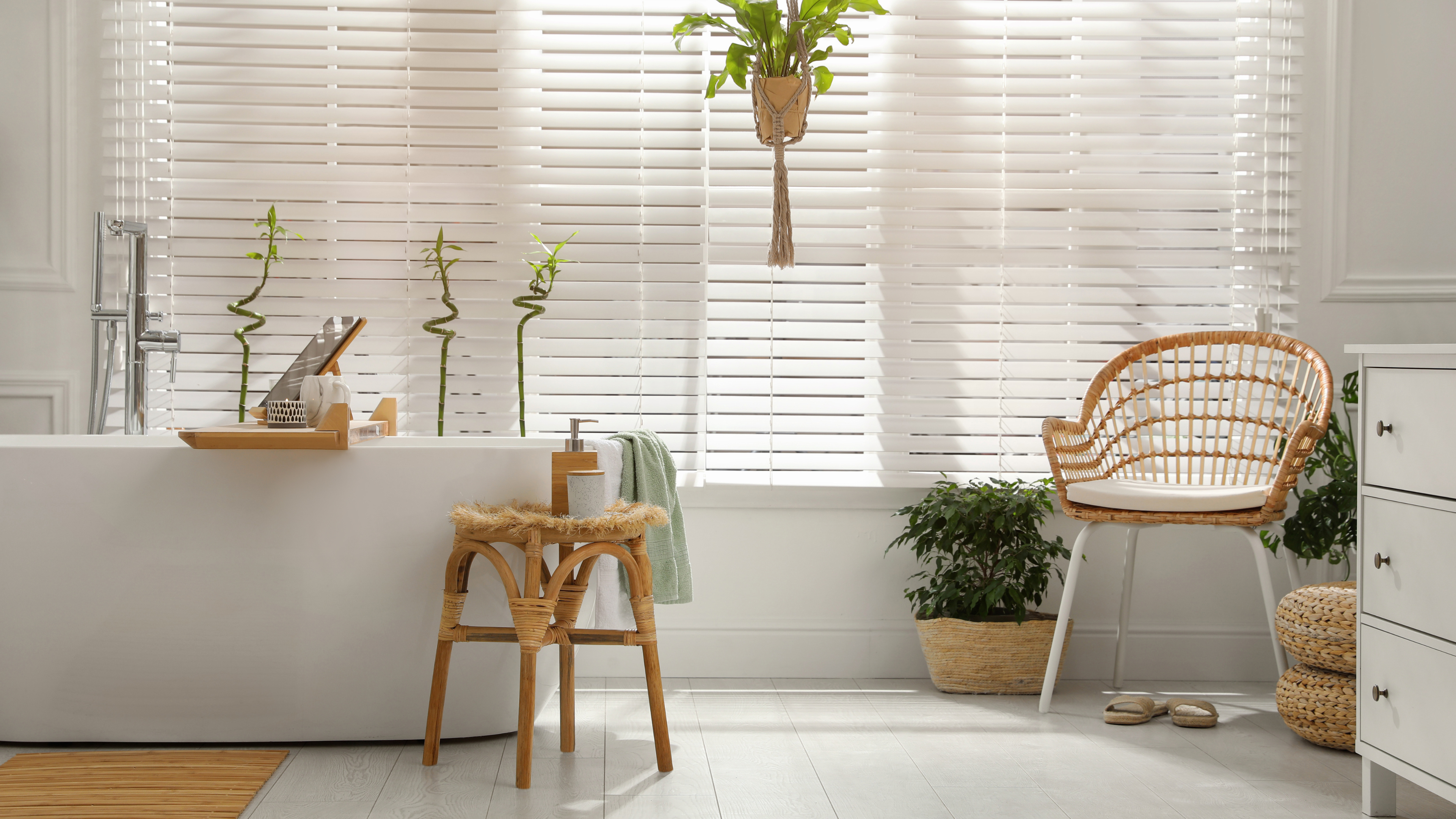 For a bathroom remodel that gives off nature vibes, introduce elements like teak casework or maple ceilings. An option for adding an organic feel to your space is using stone accents in the design of your bathroom. You can also incorporate wood components into the room, such as details on walls and flooring. Enhancing this natural connection by including large windows or polycarbonate plastic sheets allowing natural light while still keeping privacy will make it truly feel like a sanctuary-like haven where you can relax and recharge.
Vintage Meets Modern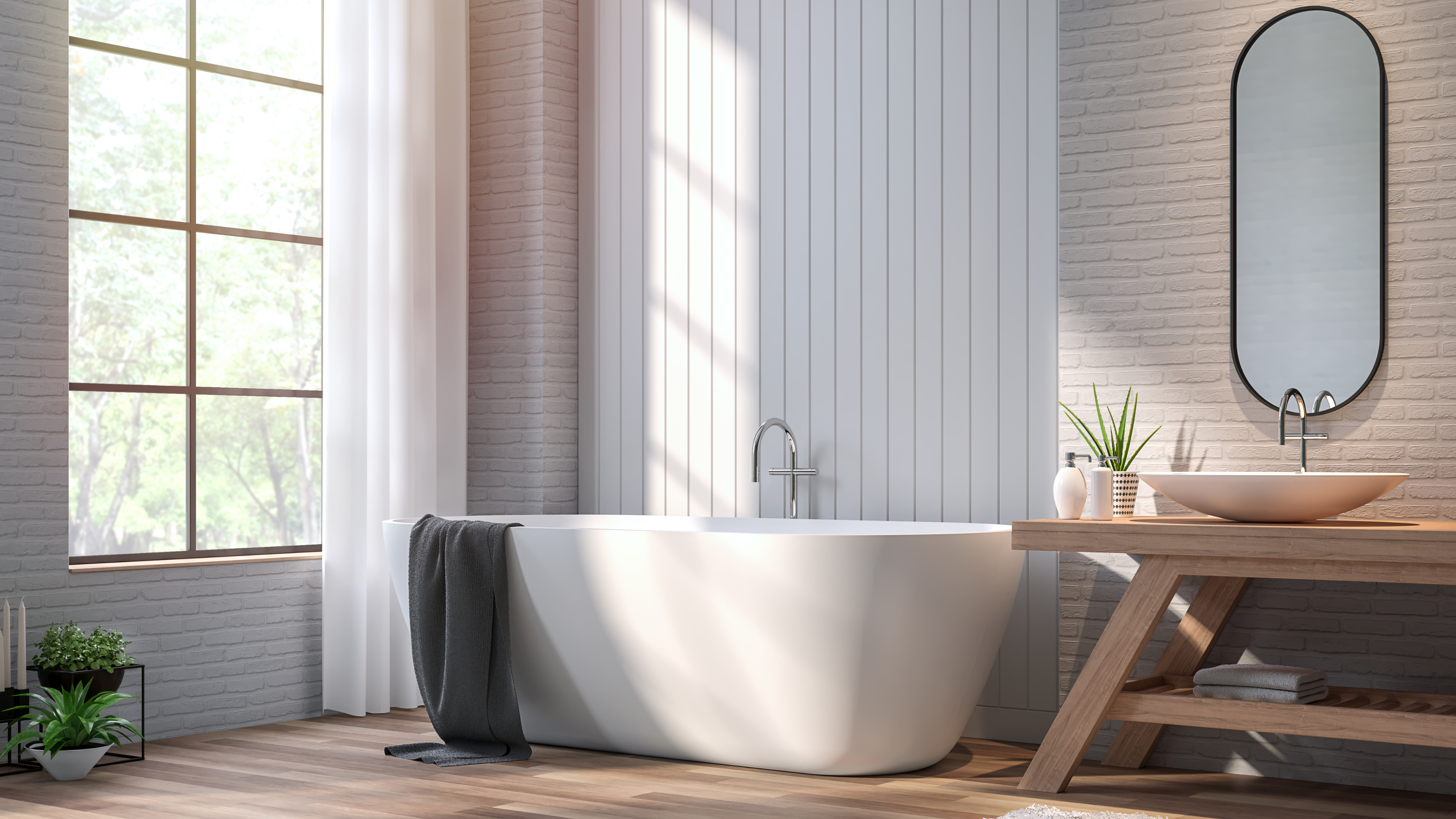 If you're looking for an inventive bathroom design that reflects your unique style, why not blend vintage and modern elements? Creating a cohesive space out of these two divergent styles can yield amazing results. Take one bathroom in Thomas O'Brien and Dan Fink's Long Island home as an example. The stunningly crafted room showcases Waterworks fittings in combination with Calacatta marble combined with lighting designed by Mr. O'Brien himself.
This could be accomplished within your own bathroom vanity remodel! The use of curves, colors, and chic accents is one way to create timeless beauty while also keeping up-to-date on today's trends. Not only will this technique give character to any bathroom, but it will ensure long-lasting satisfaction which lasts through many years ahead!
Space-Saving Solutions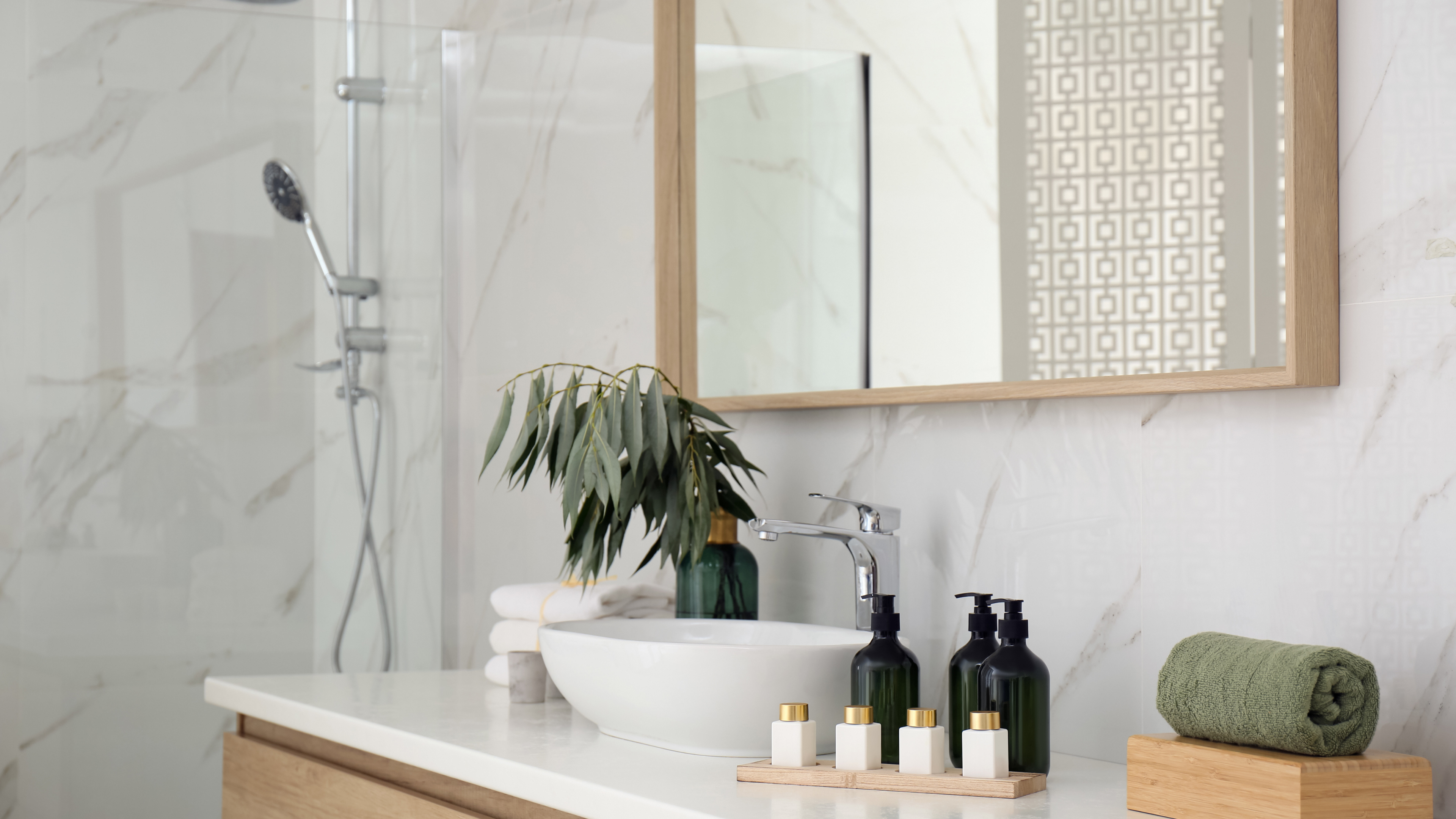 When you have a more limited bathroom, using space-saving solutions is the key to making it as efficient and useful as possible. Think about installing wall sinks, shelves that float in midair, or corner baths for added storage. These creative ideas will give your room an airier feel while still adding extra storage capacity when needed during the remodeling process.
To be able to do so. Open up small bathrooms and make them seem larger than they really are, use light shades such as white stone on walls and floor tile plus replace any bathtub with just a shower stall can also help create this illusion of extra space too! With these smart options included in your upcoming bathroom renovation project, you'll be able to accomplish both functionality and aesthetic beauty at once!
Luxurious Touches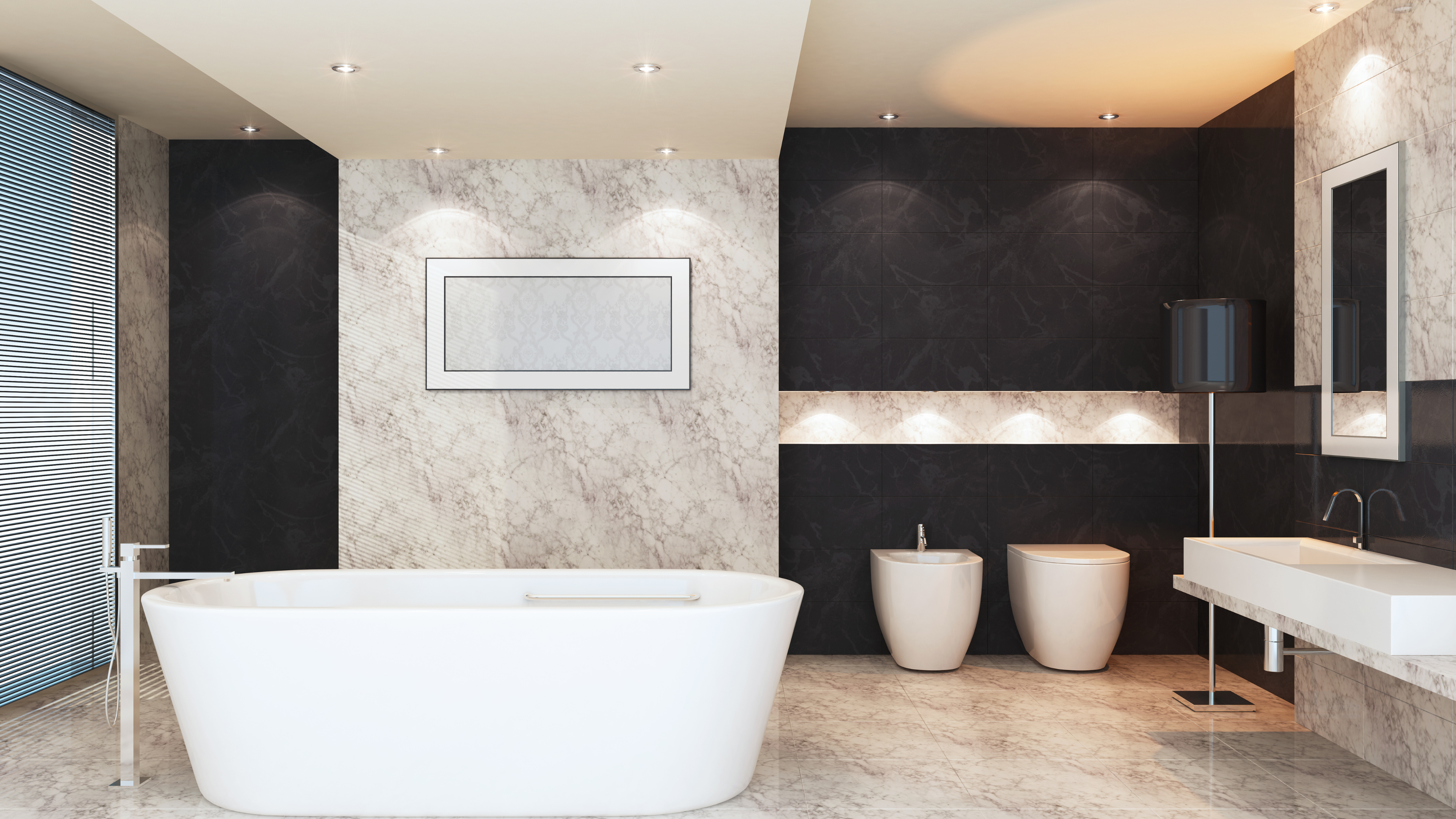 Transform your bathroom into a personal spa with cozy additions like tile floors that can be heated, towel warmers, and steam showers. Investing in heated tiles for the typical rectangular shape of most bathrooms will save money without sacrificing comfort or warmth during cold winter months when they may not otherwise have any insulation underneath them. Installing an indulgent soaker tub is another great way to recreate an authentic spa-like atmosphere while you unwind after each day spent outdoors. With these stylish touches in place on your own master bathroom remodel project, it's easy to create a private retreat every time you step inside!
Bold Patterns and Textures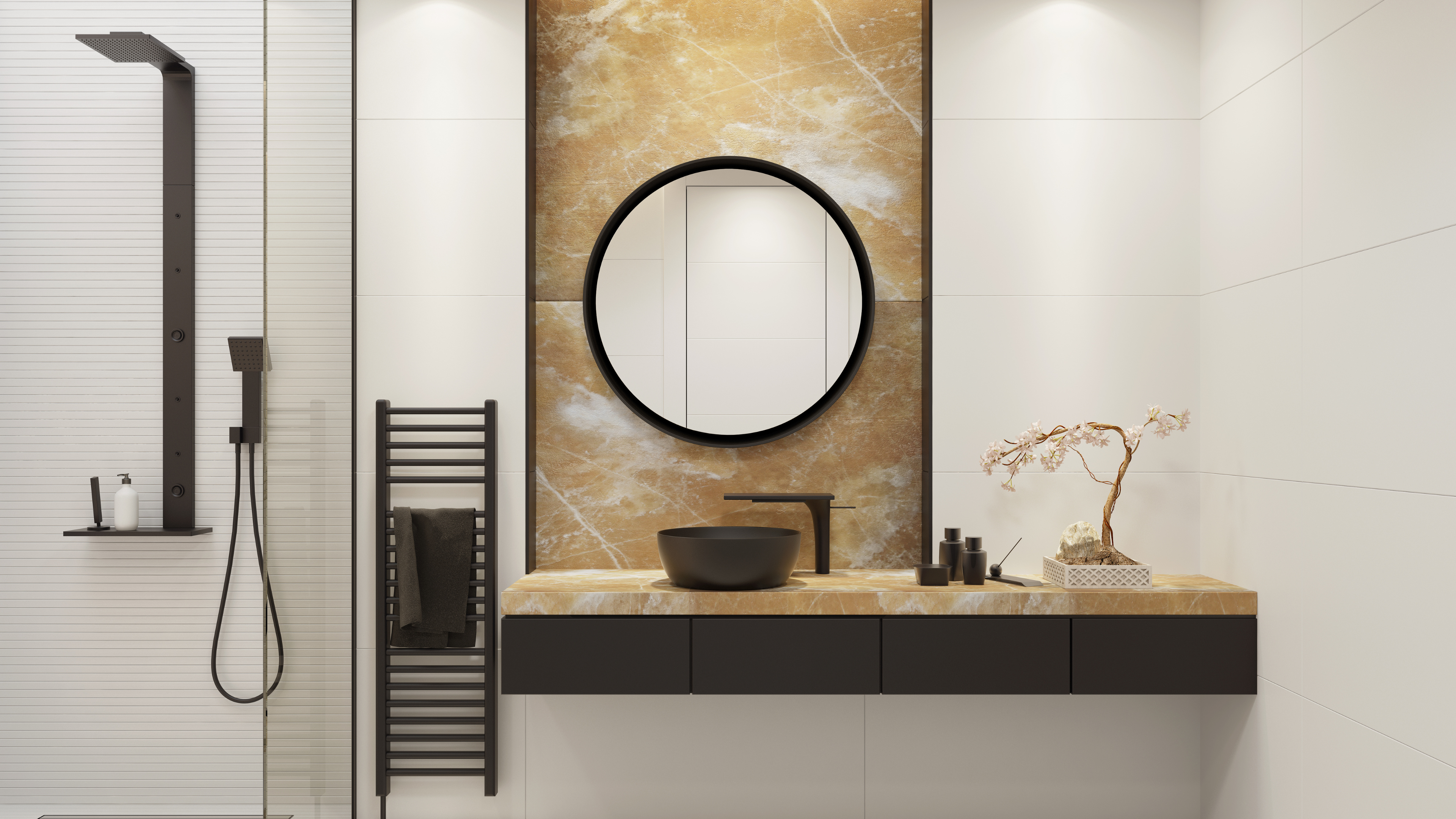 When it comes to revamping your bathroom, bold patterns and textures can inject energy into the space. From geometric tiling, floral wallpaper, or textured stone decorations to patterned flooring and wall tiles throughout, there are a plethora of ways for you to bring in character during your remodel. It's important not to be afraid of trying new things as they can create an eye-catching atmosphere that makes all the difference. Whether you want something bright with tile designs or go for more subtlety through wallpapers – these vibrant elements will give off lasting impressions while transforming even ordinary bathrooms into extraordinary masterpieces!
Accessible Bathroom Design
Creating an accessible bathroom is essential for people with disabilities. This includes incorporating features like grab bars, slip-resistant flooring, and adjustable shower heads to ensure safety while still maintaining the look you desire. Comforts such as a toilet at comfort height or level access showers should be installed in order to meet ADA regulations regarding room size and location of fixtures. With this type of design implemented, your space will become both practical and fashionable catering to all types of users' needs alike!
Energy-Efficient Upgrades
When you remodel your bathroom, updating it with energy-efficient fixtures and appliances can help reduce both environmental impacts as well as energy costs. Think about integrating water-saving components such as showerheads, taps, and toilets plus programmable thermostats and LED lighting into the renovation plan to benefit from decreased expenses while making a positive contribution to our planet's future.
Customized Shower Experience
Create a custom shower space that fits your wants and needs by adding amenities such as multiple showerheads, body sprays, and steam systems. From walk-in showers with numerous heads to double units with two nozzles or rain options, you can craft your shower niche into an incredibly indulgent experience for yourself.
Investing in a steam system is one way of transforming your bathroom into the type of spa atmosphere which will provide physical benefits like stress relief along with total relaxation. By making personalized adjustments to your bathroom area it'll give off unique vibes catered directly towards what best serves you so expect nothing less than the utmost comfort during each session spent inside the shower walls and its luxurious walls!
Statement Mirrors
When remodeling your bathroom, make a big impression with unique mirrors. These fixtures not only serve their intended purpose but can also be used to enhance the aesthetic of the room as well. Consider designs like round or oval shapes for something really eye-catching. Decorative frames add interest to your home. Character and style while black metal ones give a classic yet modern look. Pivot mirrors are great too since they easily move around, creating more flexibility in terms of space and allowing you to brighten up an area at any angle desired! With statement mirror choices such as these, you'll undoubtedly take the design of your bathroom from basic to bold!
Unique Flooring Options
When you decide to redo your bathroom, there are various flooring materials available that will add a unique touch. Think about using products like bamboo, vinyl, ceramic tiles, or cork. Each provides advantages such as strength and easy cleaning. With the right type of wood flooring used for your remodel project, you can create an attractive space while making sure it's able to handle daily use in its best condition. By choosing a one-of-a-kind option from those previously mentioned for the bathroom renovation job at hand. Not only would this give off visual appeal but also guarantee long-lasting durability against moisture damage, etc.
Creative Lighting Ideas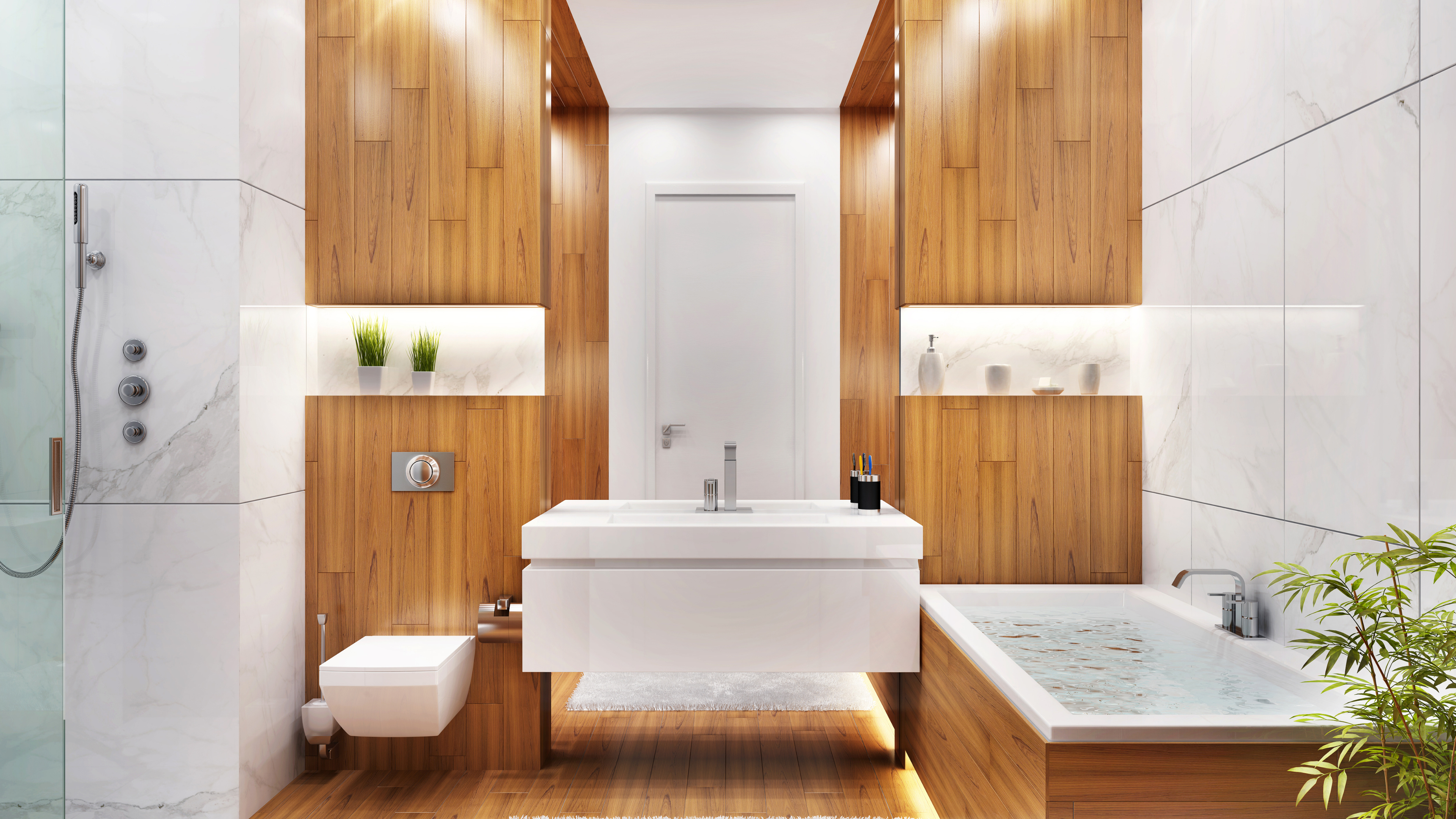 When it comes to creating a beautiful ambiance in the bathroom, lighting plays an essential role. Utilize creative solutions such as sleek fixtures such as pendant lights, recessed lights, and wall sconces for added style that will illuminate the space nicely. Experiment with various layers of lighting- flanking mirrors or adding backlighting are just some options out there – plus don't forget ambient illumination which can alter your room's mood entirely.
With clever use of different light ideas, you'll be able to create an inviting environment full of functionality and beauty within no time!
Colorful Accents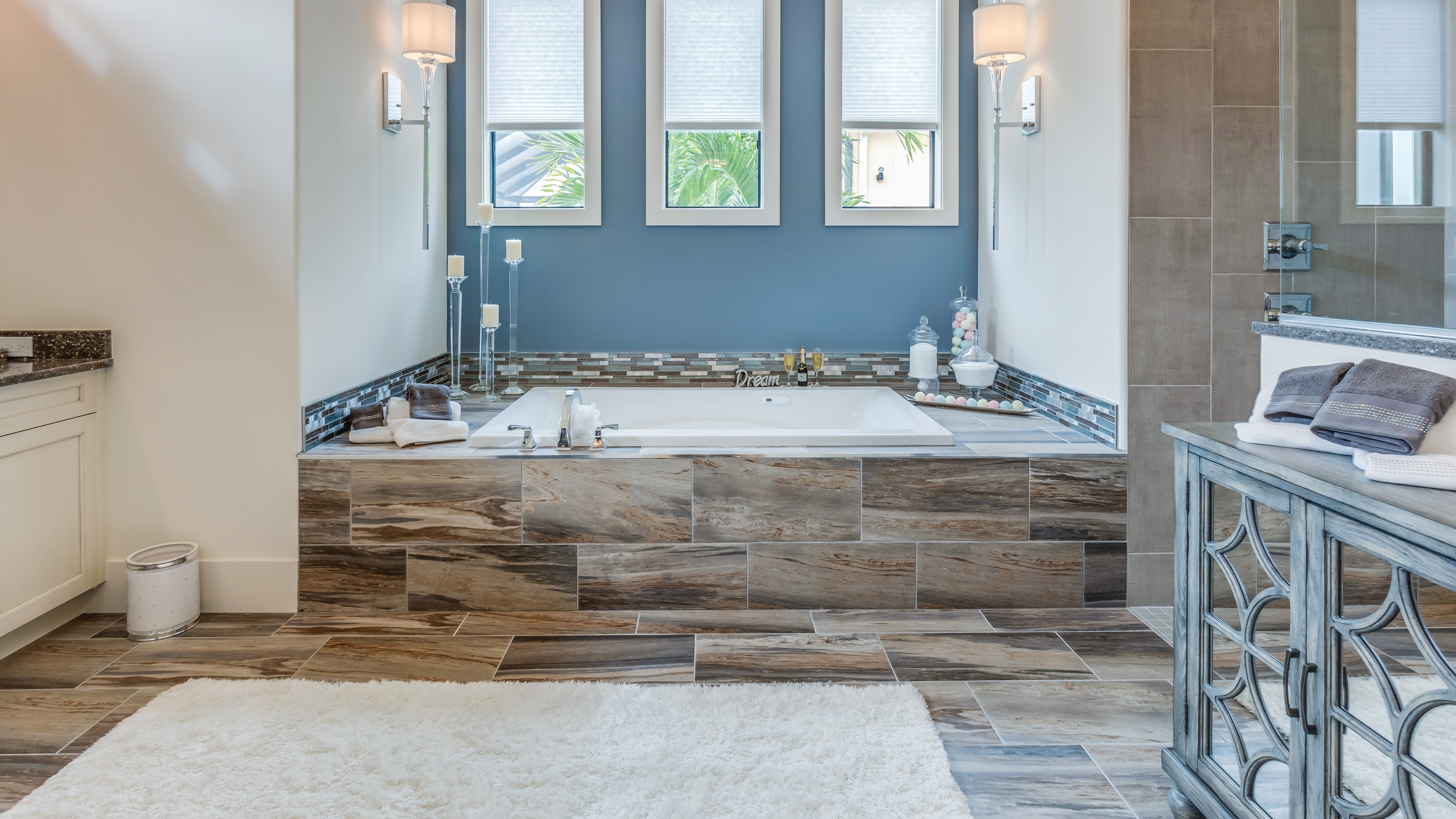 Incorporate bright details into your bathroom updates like bath towels, rugs, and art for a livelier feel. Enhance the existing look of the room or create an eye-catching contrast by introducing paint in various shades from deep blues to vibrant jewel tones. It can make all the difference in your space without having to completely revamp its color scheme during remodeling. From adding lively accents such as these, you'll have endless possibilities when it comes to sprucing up this area of your home.
Smart Bathroom Technology
Incorporating contemporary bathroom technology into your redesign is a great way to modernize and upgrade the room. Smart features such as digital taps, interactive LED mirrors, privacy glass that can be adjusted with ease, and refrigerated cabinets for storage purposes – plus smart showers and toilets – are all ideal additions when it comes to revamping a space's efficiency and luxury factors.
To create an environment that combines innovation along with practicality while performing your own bathroom remodel, look at introducing gadgets like waterproof TVs or voice assistants using AI alongside magical-looking mirrors too! By incorporating these advanced technological tools into any given design of the bathroom, you'll get yourself an updated atmosphere on top of functional amenities.
Glass Shower Enclosures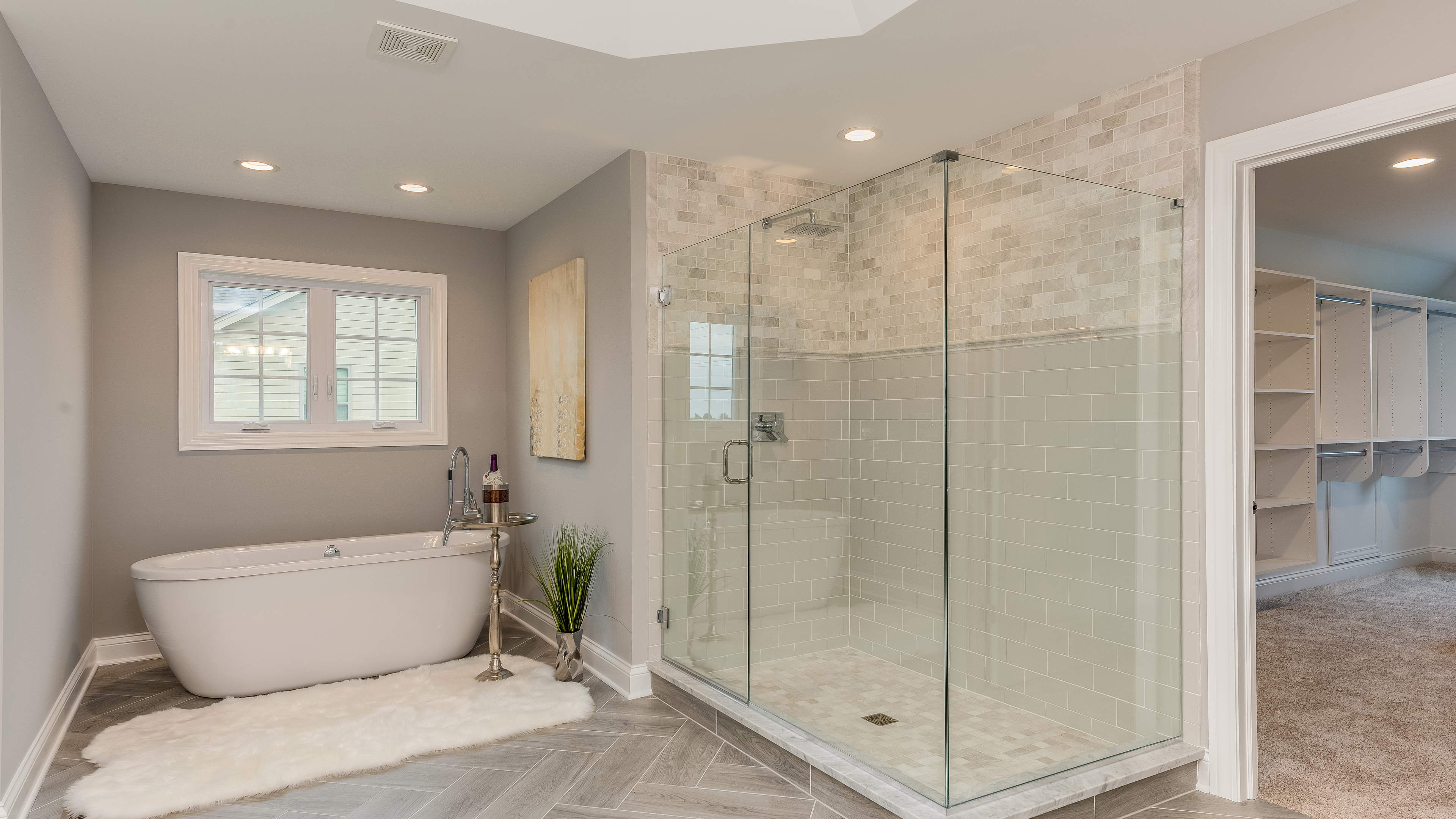 Give your bathroom an upgrade with the contemporary look of a glass shower enclosure. There are various styles to choose from – frameless, semi-frameless, and framed, as well as varied thicknesses of glass that can be incorporated into any bathroom remodel ideas. Not only will it add beauty, but it will also provide more open space. Other materials used for showers such as prefabricated units or fused poly pan tile options tend to be budget-friendly solutions when doing a renovation job on your bathroom. Installing this type of shower area is sure to give you the chic result desired while being mindful of cost at the same time!
Mixing Materials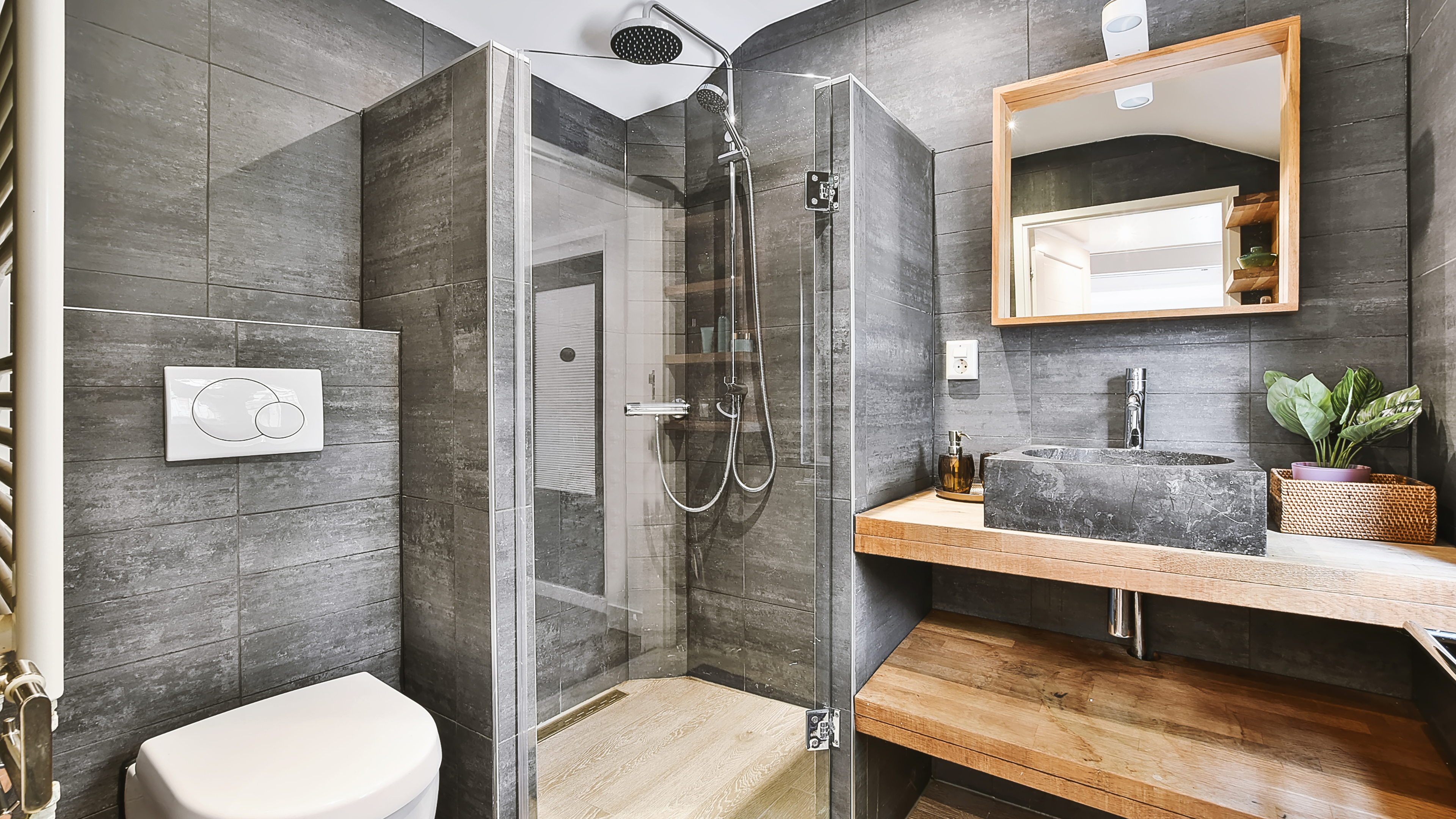 During your bathroom remodel, it's easy to add a unique and interesting aesthetic by blending materials such as wood, metal, stone, and more. These artistic combinations can give the space dimension while also showing off your style, think chrome fixtures paired with gold or silver metallic shades for example. Not only will you create an attractive look in the bathroom, but mixing diverse elements may save money too! So don't hesitate to experiment with different textures during your renovation process. Just be sure that everything is properly installed so as not to hinder the functionality of the room when all is said and done.
Small Bathroom Makeovers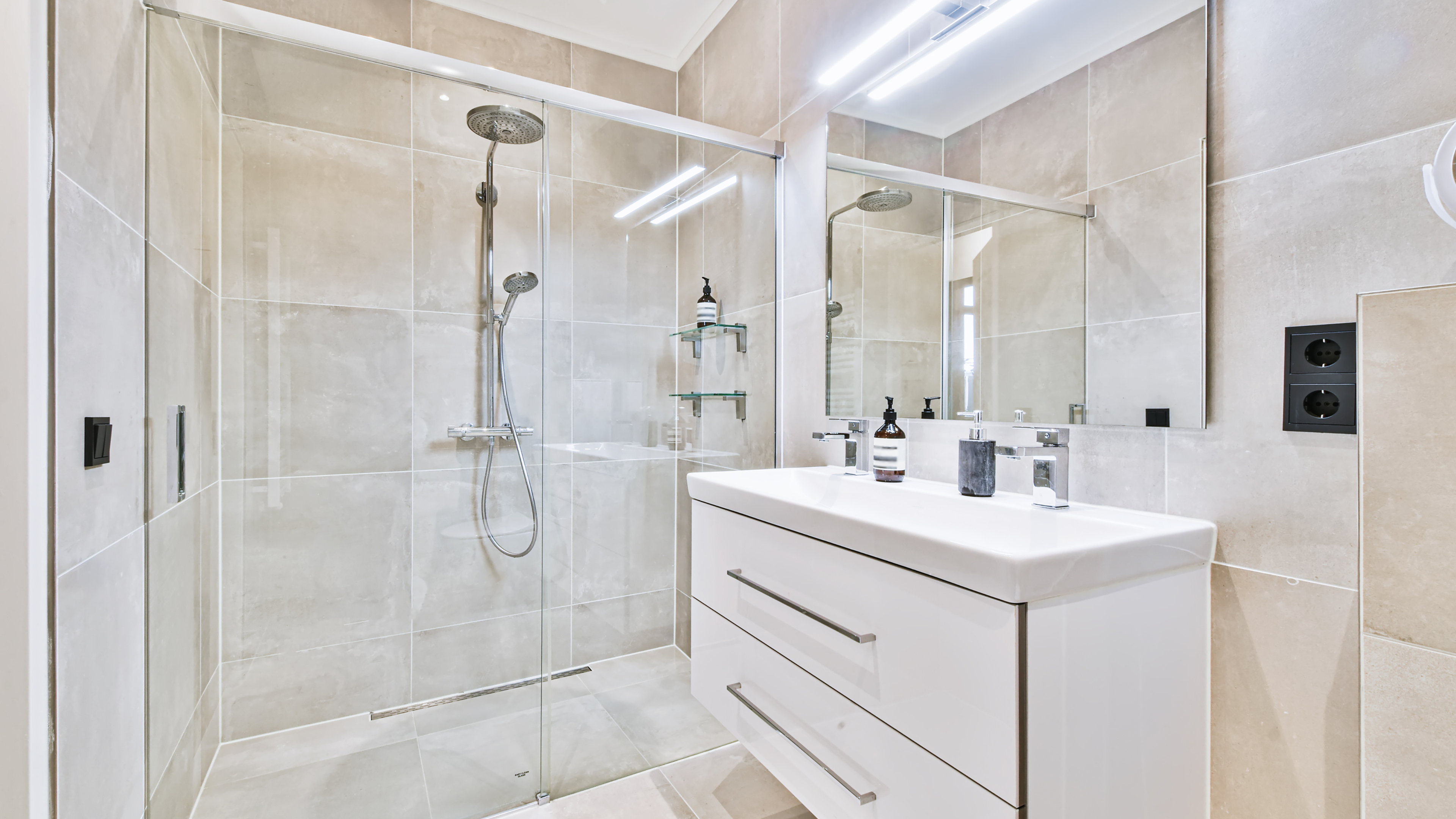 A successful makeover for a small bathroom can be done with the right ideas. Create more space by adding a fireplace, placing your tub on an elevated platform, or demolishing a wall between it and another bedroom. Another option is to merge two bathrooms into one, this will enable you to fit in even more furnishings without feeling cramped! With these inventive strategies, even tiny spaces in the master bathroom can become bright, airy areas full of functional pieces that offer unbeatable convenience.
Bathroom Layout Optimization
Maximizing the interior design of your bathroom can lead to an improved look and effectiveness. Move around furniture pieces and accessories in order to get the most out of your area, or perhaps consider changing up where you locate both your washroom and laundry room for something completely different!
Make a plan when it comes to setting apart parts in your restroom like having separate zones between you and somebody else sharing this space with you. By carefully optimizing that layout, you will result in a comfortable yet efficient environment reaching even beyond expectations.
Summary
To bring your bathroom into the new era, consider taking on a remodeling project. From modern monochromatic designs to high-tech fixtures, these 21 inspiring ideas can help you create an attractive and efficient space that speaks volumes about your personal style. So why wait? Start making plans for revamping your bathroom in 2023 so it's ready to transform when 2021 comes around!
No matter what design route you decide upon, rest assured that with some careful consideration and thoughtfulness, you'll have a stylish yet functional room where guests will feel welcome—a sanctuary full of inviting character just waiting to be enjoyed by all who enter its doors.
Frequently Asked Questions
What is a realistic budget for a bathroom remodel?
When budgeting for a bathroom remodel, the average cost is usually around $11,398. This figure may range from as little as $6,621 to up to $16,773, with an upper limit of approximately 30k for complete overhauls in bigger bathrooms. A powder room or half-bath on the other hand will typically set you back between two and five thousand dollars only. So it's important that you carefully consider your own circumstances when allocating money towards renovating this essential living space!
What's the most expensive part of a bathroom renovation?
The bathroom layout renovation is the most expensive step of a restroom remodel. This includes labor and supplies, so it's important to consider when planning out the budget for this project. When reconstructing from scratch, you'll need to be mindful that there may be significant costs associated with changing up the space in such an extensive manner. Bathroom renovations can be costly due to their nature, but keeping these expenses in mind will help make sure your transformation runs smoothly!